Hearing the sound of music and drums coming from Santa Fe High? That's because the Blue Knights Drum and Bugle Corps is practicing before they head on tour! They will be rehearsing their performance tonight at Ivan Head Stadium from 5:30 - 7:30 before they head to Phoenix!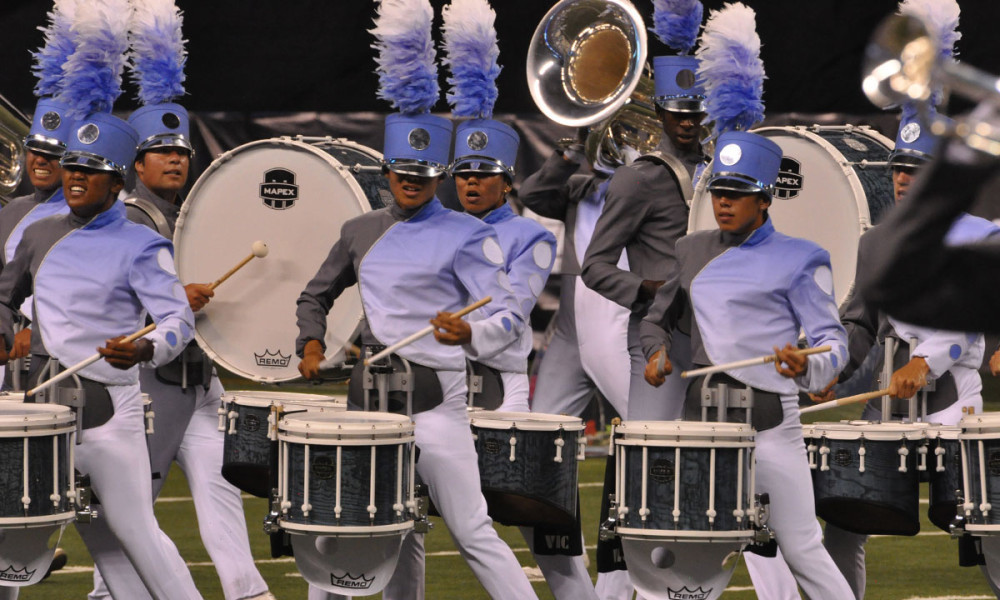 Math Adventure Camp is BACK! Students who attended Math Adventure Camp passed Algebra 1 with an average score of 81% and grew 160% based on pre and post assessments! Join the crew of pre-algebra explorers using MidSchool Math for a half-day academy of math concepts with application on student developed projects and earn .25 high school credit!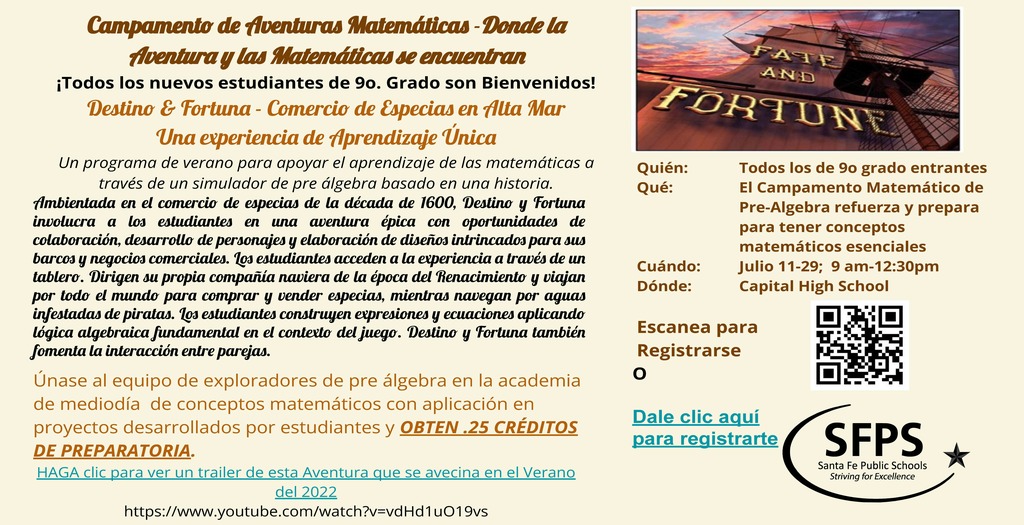 The Imagineer Summer STEAM Camp Will Be Open to 3rd through 6th Graders on July 11th through 15th! Please see the flyer below for information on how to register your child for this unforgettable experience. There is a limit of 30 students, so sign up soon.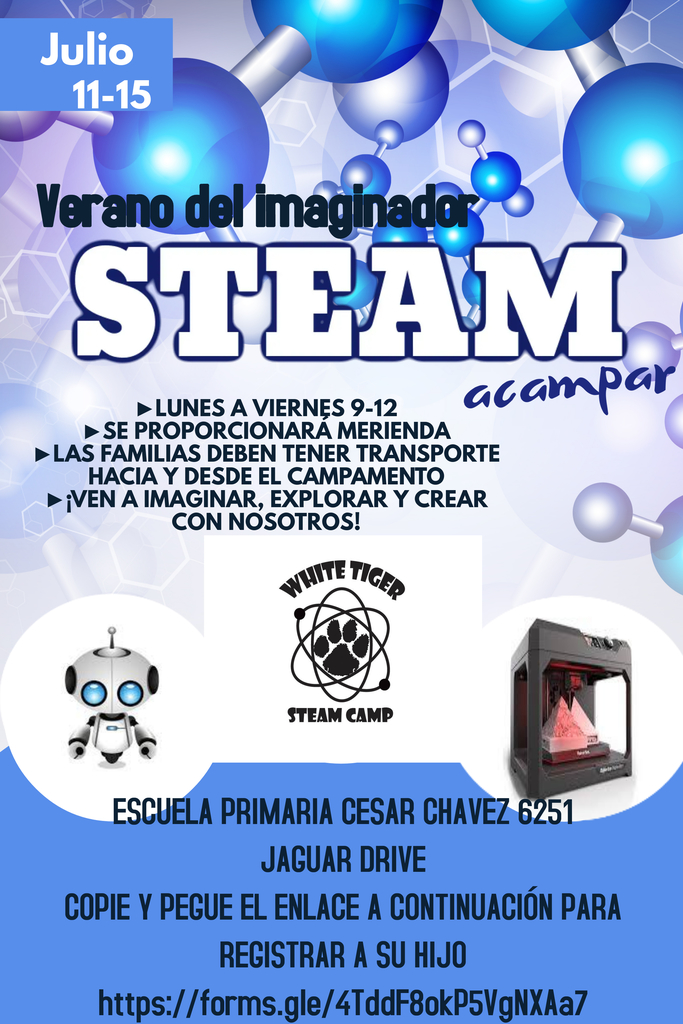 SFPS Early Childhood Center is Hiring!

SFPS is having a JOB FAIR!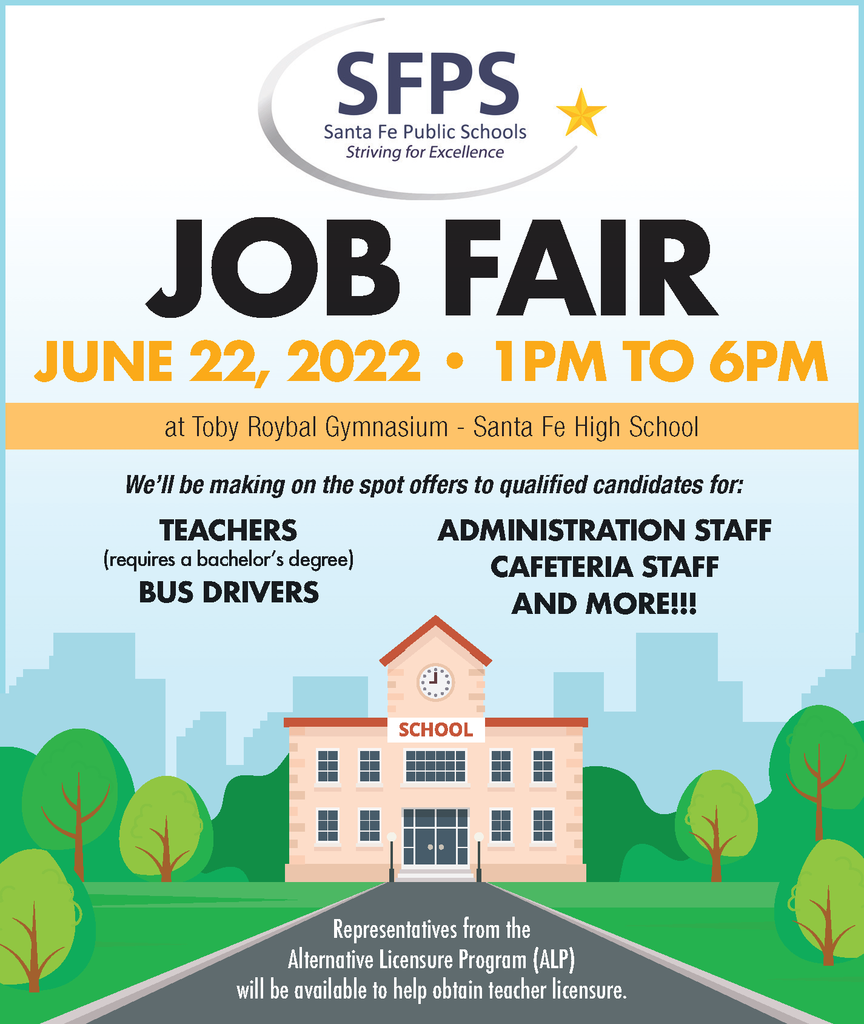 Please see the Board of Education Special Meeting on 6/23/22 in the Events section of the website to view the Agenda and link to watch the meeting.

On June 30th the Santa Fe High School Band is hosting the Blue Knights Drum & Bugle Corps from Denver, CO. The Blue Knights are a member of Drum Corps International and are one of the top 10 marching ensembles in the world. They will be rehearsing in the SFHS stadium all day as they begin their summer tour working towards DCI World Championships. We are extremely excited to house a World Class Drum Corps in Santa Fe for the first time in almost two decades. We would like to invite members of the community to visit SFHS that day, to watch the Blue Knights. There is no cost, and audiences of all ages and musical backgrounds will enjoy watching them rehearse. For more information on the Blue Knights, you can visit their website
www.ascendperformingarts.org
For more information on the Santa Fe High School Band Program, or how to help support our bands, you can visit our website at
www.santafebands.com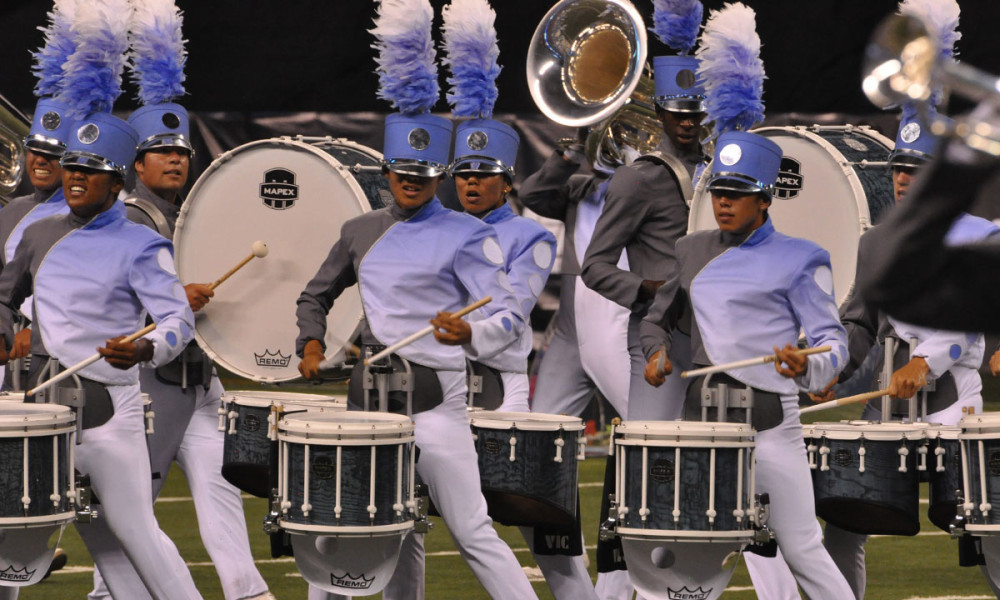 SFPS is having a JOB FAIR! Come join us this Wednesday, June 22 from 1-6 PM!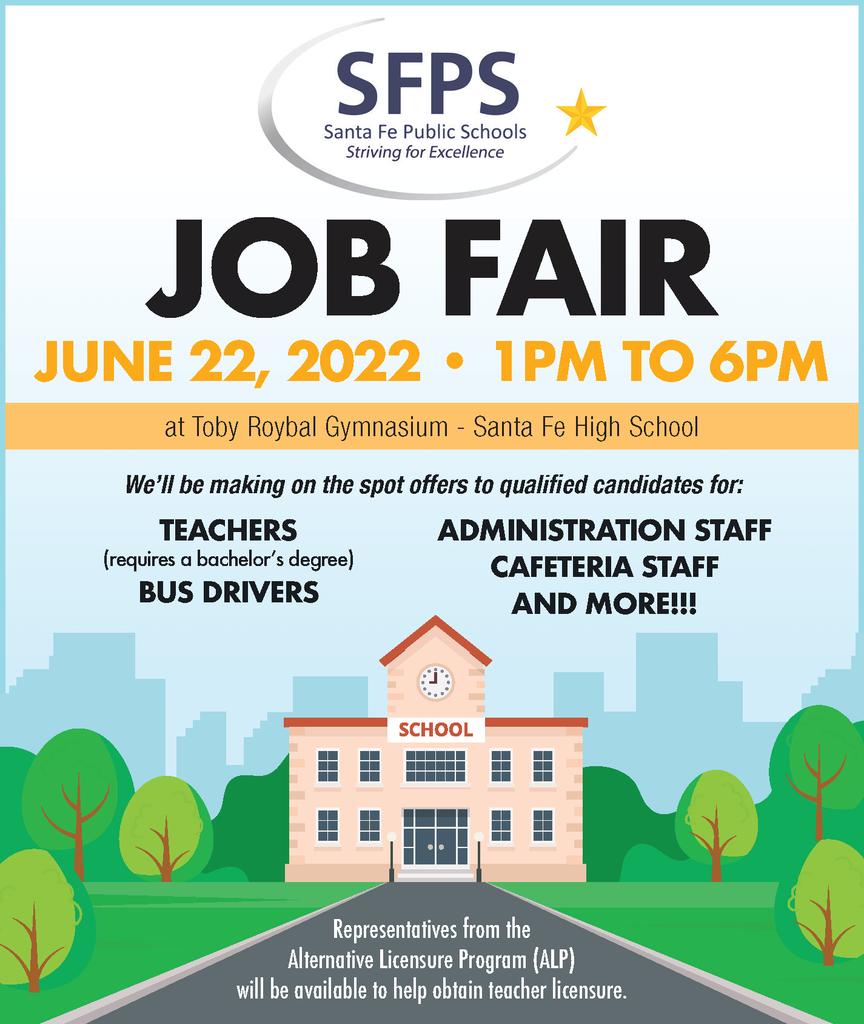 SFPS Early Childhood Center is Hiring! Competitive Salaries and Benefits! Please see the flyer below for more information: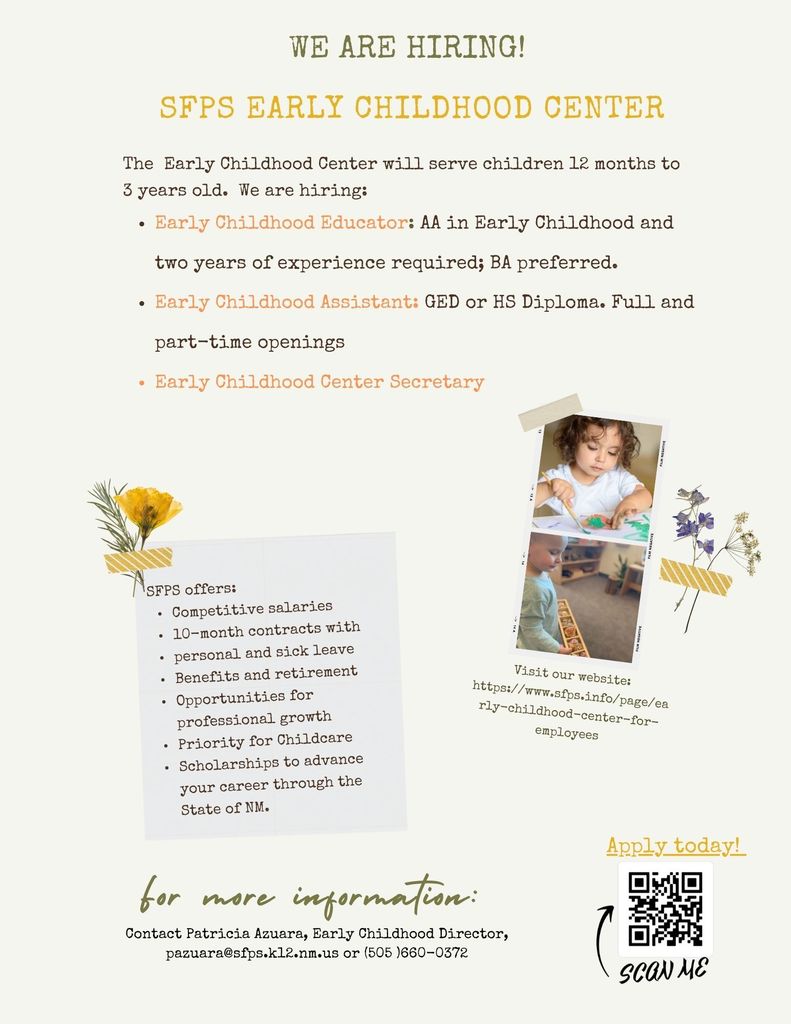 Per the Elementary and Secondary School Emergency Relief fund under the American Rescue Plan, SFPS is required to update and seek community input for its LEA Plan for Safe Return to In-Person Instruction. We welcome your feedback and input! Please visit the following link to review the draft plan and complete the survey.
https://www.sfps.info/page/federal-programs

This afternoon, employees whose children received a seat in the SFPS Early Childhood Center got an early look at the space where their kids will be learning while they are at work! Special shoutout to Dr. Patricia Azuara for all of her hard work to make this a reality!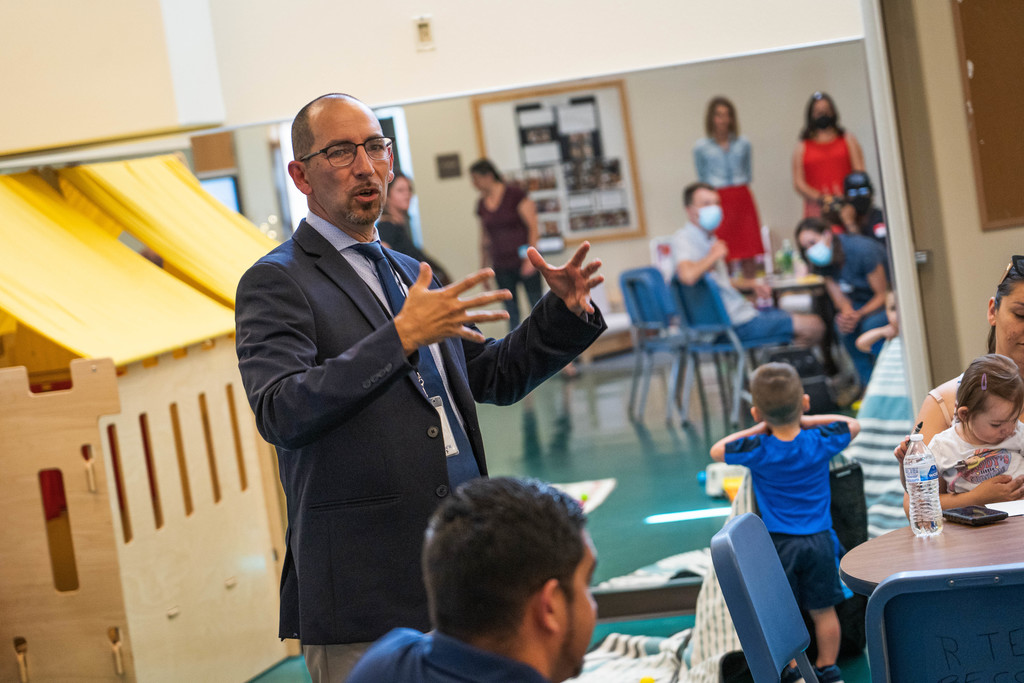 Santa Fe Public Schools Board of Education has cancelled the Regular Meeting that was scheduled for June 2nd, 2022. Our next meeting will be June 9th, 2022, 5:00 p.m.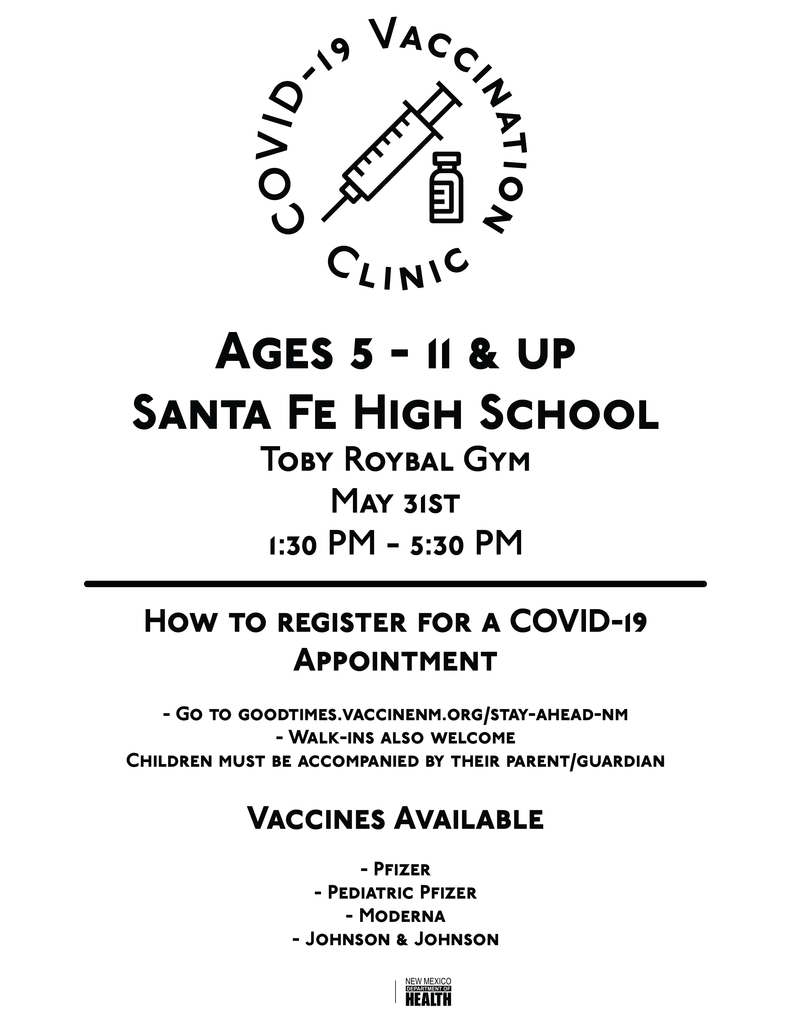 This afternoon at Aspen Community School, Governor Michelle Lujan Grisham signed an executive order asking NMPED to address and remove excessive "administrative burdens" in New Mexico schools!

SFPS Students and Teachers have access to Sora - an online reading app that provides free access to thousands of popular books and audiobooks in English and Spanish! See the flyer below for information on how to access this incredible app!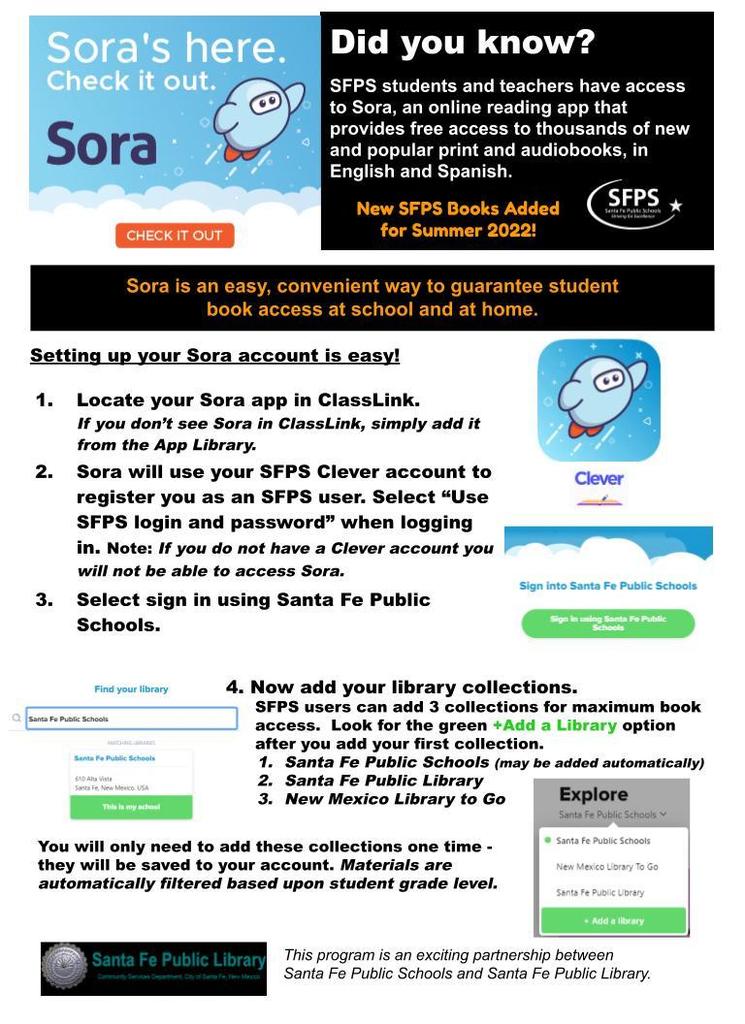 Wondering what the Air Quality Index is or where the smoke in the air is coming for? You can find out here:
https://fire.airnow.gov/#