The SFPS Teen Parent Program supports expectant and parenting teens so they can experience the success of graduating from high school while learning essential parenting, well-being and self-advocacy skills.
The Teen Parent Program offers:
Academic environment on-site at Santa Fe High School (SFHS), Capital High School (CHS), Academy, Engage, and Santa Fe Community College

One parenting class period/day using the Graduation Reality and Dual Skills (GRADS) curriculum. This curriculum integrates 10 unique areas that reflect the serious nature of parenting and the dynamic needs of pregnant and parenting teens.

Intensive case-management service, which includes, but is not limited to referrals to appropriate agencies to enable teen parents and their families to access resources and services.

A fully staffed Early Headstart 0-3 childcare classrooms at both SFHS & CHS sites.

Home visits by nurse and/or case manager to homebound pregnant and parenting teens so they can continue school and access necessary prenatal and postpartum care.

Education and support groups for young fathers and other family members.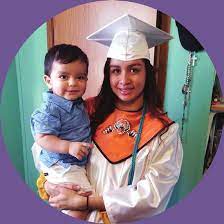 Who is Eligible?
Any teen, including a middle school students, who is expectant or parenting and enrolled in Santa Fe Public Schools. Students who graduate from Santa Fe Public Schools and transition to Santa Fe Community College receive case management support.